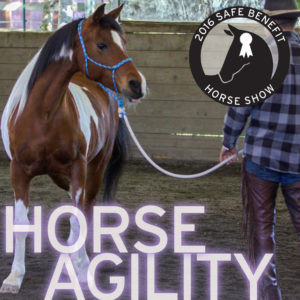 We are very excited to announce that that HORSE AGILITY is being added to the SAFE Show on Saturday, July 30.
Horse Agility is an internationally competitive sport in which horse and handler, both on foot, navigate a course of obstacles while focusing on clear communication and positive horsemanship. Horse Agility can help build a very close relationship with your horse and keep your horse's mind working constructively. SAFE is thrilled to include this competition at this year's show because it's a sport that all horses can participate in, regardless of whether or not they can be ridden! Even mini horses can compete in Horse Agility. Riders will find that doing agility work with their horses can strengthen their relationship both in and out of the saddle.
Kathy Richardson of Rusty Bar Ranch is a Horse Agility Accredited trainer and judge. Kathy will set up a Starter Level agility course for competition on Saturday, which will be posted here on the show website well before the show date. CLICK HERE TO VIEW A SAMPLE "STARTER COURSE." As an introduction to the sport, Kathy will demonstrate the course, using one of the SAFE horses, at 9:00am on Saturday morning. After that, competitors who have signed up for the class can stop by and complete the course whenever their schedules allow. The course will be open from 9:15am to 3pm.
Horse Agility has been added to the online entry form. If you've already entered the show and would like to add an Agility class, use the online Add Classes Form to enter. We'll also be accepting day-of-show entries. The entry fee is $10.
Horse Agility is a sport that has been slow to catch on in the US but is very popular in Europe and elsewhere in the world. To learn more about how you can compete in Horse Agility without having to leave your farm, visit The International Horse Agility Club.