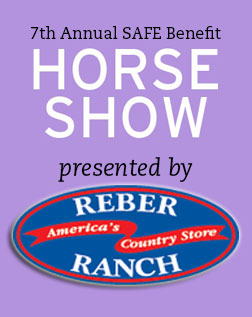 We are super excited to announce that for the second year in a row, Reber Ranch had stepped up to become the Presenting Sponsor for the SAFE Benefit Horse Show! The amazing, unwavering support that SAFE has received from Reber Ranch over the past several years has been nothing short of incredible, and we are so grateful to the wonderful people at Reber for everything that they've done to help horses in our community.
Reber Ranch, America's Country Store, is located just off Highway 18 in Kent. When you walk into Reber Ranch horse and pet supply store, prepare to be surprised! This is not your average pet supply store. It's big! It's fun! It's well-stocked! It's an experience!
Reber Ranch will be holding their annual Customer Appreciation Sale on Saturday, June 15th! There are Over 25 prizes to including the Grand Prize — a Jamis Allegro Sport Bike with a Burley Pet Trailer, valued at over $1,000! They'll also have FREE lunch, FREE hay rides, and $3 pony rides for the kiddos, with all proceeds going to the Auburn Humane Society.
Also, starting in August, Reber Ranch will be opening its facilities to full-service horse boarding again.
The facility will feature fully remodeled 10 x 12 stalls, indoor wash racks, individual lockers, and cross-tie areas.  All breeds welcome! Hay and grain will be provided and horses will be fed up to 3 times daily. Stalls cleaned twice daily, daily blanket change. The property also features 2 large outdoor arenas, a covered arena and covered round pen. Dry paddocks will be available for daily turn-out. Full Service Care Only. Services start at $500.00.