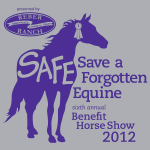 Good morning and happy August to everyone! Just three more days until the 2012 SAFE Benefit Show gets underway. We have an amazing 135 horse & rider pairs pre-registered for the show this year, just an incredible number of people coming out to support SAFE! Thank you to all of you, we couldn't be more excited about it!
A few quick show announcements:
Dressage entries closed last night, and we'll have ride times posted later on today, so check back. As we announced yesterday, we will be running 2 rings this year. Intro classes will be held in the short court in the indoor arena.
Hunter/Jumper entries will remain open for a few more days so if you haven't signed up for them yet, there is still time. The preliminary hunter ring schedule is posted right here, this doesn't give you class times, but it does show you the order the classes will be held, to give you an idea of when things will be happening on Sunday in the Anderson Hunter Ring.
Still time to register for Western and English classes, but please use the online entry form so that your entry reaches us in time. We leave for the show on Friday morning, so any mailed in entries that are not in my mailbox by Thursday make it. Contact Show Secretary Bonnie Hammond at bonnie@safehorses.org or by phone at 206-331-0006 if you have any questions. That's what I'm here for!
Online pre-entry for the show closes at 5pm on Thursday 8/2. The show office will be open on Friday 8/3 from 3-8pm for pre-entries.
Now go get that tack cleaned and give your horse a bath! It's almost showtime!