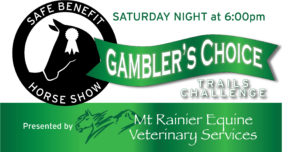 Here's how it works: there will be 10 contestants, who will each have 2 minutes to complete a series of obstacles on a trails course. Each obstacle will be worth a specific number of points based on difficulty, and the rider who accumulates the most points during their run is the winner. Sounds simple, right?
The super fun part is that before we start, the 10 riders will be auctioned off to the members of the crowd. The money from the auction goes into a pool, and when the dust settles, half of the pool money goes to SAFE, a quarter goes to the winning rider, and a quarter to the winning bidder. Last year, the winning rider AND the person who won her in the auction each went home with more than $1,700! The stakes are high and the competition is fierce. But someone will emerge victorious and be crowned the Champion!
The Gambler's Choice Trails Challenge, presented by Mt Rainier Equine Veterinary Services: it's super fun, it's for a great cause, and you don't want to miss it! It's all part of the Saturday night dinner party at the SAFE Show, and everyone is welcome!
Trainers bringing students to the SAFE Show are invited to ride and compete in the Gambler's Choice Trails Challenge! Contact Bonnie at bonnie@safehorses.org if you're interested!
We will be serving dinner during the festivities — Wood-fired authentic Neapolitan pizza made fresh by Veraci Pizza. Dinner includes salad, beverages, and Sub Zero Ice Cream for dessert. Beer and wine will be available for purchase too! Dinner tickets need to be purchased in advance so we know how much food to order so click here to purchase dinner tickets!