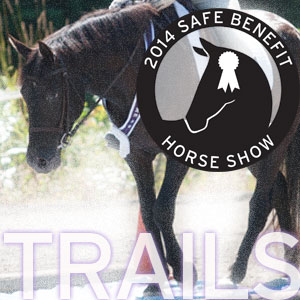 Great things are planned for our Trails competition this year, starting with the addition of Mr Dan McCallister to the team. Dan sets show trails courses for AQHA breed shows, and he's a real pro when it comes to designing courses to test your partnership with your horse! We've already seen some preliminary designs from Dan, and we promise, Trails at the SAFE show are going to be great this year!
We're especially excited because Dan has agreed to open his trails course for schooling sessions before competition on both mornings of the show. For a fee of $15, you and your horse can have a 20 minute schooling session on the actual course. As an added bonus, Dan will be available for coaching if you want help with any of the obstacles, or you're welcome to work alone if you'd prefer. Sign up for Saturday or Sunday open schooling sessions as part of your show entry…or add sessions online using the Add-A-Class form if you're already signed up.

The Trails arena is sponsored by our good friends at Town & Country Post Frame Buildings, a division of PermaBilt Industries.