Today was an absolutely wonderful day at the 11th annual SAFE Benefit Horse Show — a great day of friendly competition for English and Hunter Riders. The weather ended up being downright pleasant, and the classes in the indoor arena were cool and comfortable. Big thanks to David Blake and the guys at Donida for keeping the outdoor rings watered and dragged throughout the day.
Following the English classes in The Grange Main Arena, we had the first annual SAFE Hobby Horse Challenge, and it was absolutely HILARIOUS. Huge thanks to Katie Barron for making it so much fun, and thank you to all the riders who really gave it their all, even when their hobby horses exhibited less than perfect behavior. This was a smashing success and we cannot wait to do it again next year!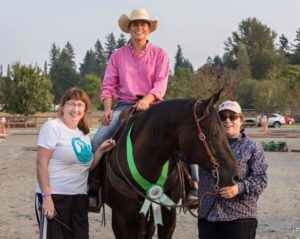 Speaking of smashing successes, you should have been there for the Gambler's Choice Trails Challenge, sponsored by Mt Rainier Equine Vet Services. The Master of Ceremonies, Dan McAllister, designed a challenging course for the riders to tackle, and boy did they rise to the occasion. But it was the audience who really blew us away because after all the riders were auctioned off, there was $7,100 in the pot, smashing all previous records, and setting it up for the winning rider and the person who bought them to each take home $1,775. WOW!! After all the riders completed their rounds, we had an tie for 1st place between 2 time champion Rachel Kohler and newcomer Ryan Sophy. The tiebreaker gave the victory to Rachel and Velvet, and Velvet's owner, who won the auction for Rachel generously donated her share of the winnings back to SAFE. So tonight's event brought in an incredible $5,325 for the horses at SAFE. Way to go, everyone, and THANK YOU SO MUCH for making this happen!
Tomorrow morning at 8am we're back at it with competition in Western, Dressage, and Trails. Come down and cheer on SAFE horses Ben, Stevie, Cameo, and Tasara, as well as SAFE alums Opal, Baxter, Bucky B Lucky, Moonshine, and Owen. It's going to be another great day!!