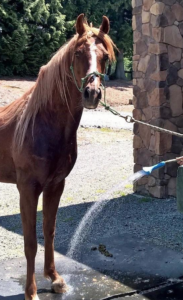 The heat wave forecast for this week has everyone a bit concerned about the comfort and safety of horses and riders at home and at the show. Currently, there is an Excessive Heat Warning in effect from this evening until 8pm on Friday. By the weekend, the temperatures are supposed to drop, but it is still going to be plenty hot! So here are a few things we've decided to do to combat that:
We're going to move the English rail classes and the Western rail classes to Donida's large indoor arena. We'll be out of the direct sun so it should be quite a bit cooler. We'll get underway with the In Hand classes both days at 8am. It's likely that we will be done in the Main Arena by around 2pm.
We'd like to move the start of the hunter classes to 8am on Saturday as well. Here is the complete Hunter Ring schedule:
7:30am Trot Pole warm up
8:00 am – 9:30am   Trot Pole classes (Open Card)
9:45 am     Cross Rails warm up
10:15 am- 11:30am    Cross Rails classes (Open Card)
Break for lunch — Water/Drag Arena
12:30pm    2 ft warm up
1:00 pm – 2:30pm    2 ft classes (Open Card)
Finally, we are considering starting our dressage ride times on Sunday earlier, possibly as early as 7:00am. With two rings, we may be able to get all classes complete by 2pm if we get started early.
Regarding stabling, many of you have asked if you can bring box fans for your horses' stalls. You can, but there is no guarantee that you'll have access to power in the stabling area. Extension cords must be secured so that there are no tripping or chewing hazards. You absolutely cannot unplug the PA system. And fans must be turned off at night.
Thanks to our sponsor Purified Water to Go, we will have a cold water hydration station at the show, so competitors and volunteers can have fresh, cold water to drink. We'll also be selling SAFE water bottles at our booth, so pick one up and stay hydrated all weekend!
SAFE Show Cancellation Policy: Exhibitors canceling entries after 5pm on Thursday Aug 3 shall forfeit their paid entry fees, unless you can produce a certificate from your vet or physician prior to the start of your first class. Paid entry fees that are not used or refunded are considered tax deductible donations to SAFE and tax receipts will be issued on request.